Careers in Funeral Service
If you are interested in:
Helping Others
The Human Biological Sciences
Community Involvement
A Business Environment
Then a career in funeral service may be right for you! Funeral service professionals work with the bereaved during times of emotional need. These professional caregivers enable families and communities to express their emotions and help them to properly grieve.
Funeral directors often describe being drawn to funeral service because it is a "calling." Hear from a few funeral directors about why they can't imagine doing anything else.
Duties and Responsibilities
Provide support to the bereaved during the initial stages of grief
Arrange and direct funeral ceremonies
Arrange for removal of the deceased from the place of death
Prepare the body according to the wishes of the survivors and legal requirements
Secure information for legal documents
File death certificates and other legal papers
Assist survivors with details for filing claims for death benefits
Help individuals adapt to changes in their lives following a death through post-death counseling and support group activities
There's no "typical" day for funeral directors, but that's what keeps it interesting for these individuals who have dedicated their lives to helping families during the most difficult times in their lives.
Funeral directors receive the education and knowledge they need to serve grieving families, but what does it really take to be a funeral director?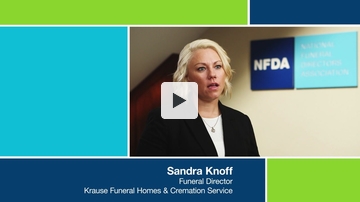 What have you heard about funeral service? These funeral directors set the record straight about common myths and misconceptions.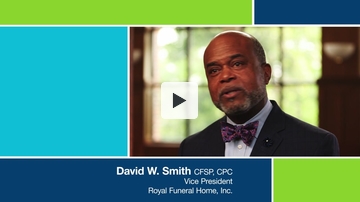 Educational Overview
Most states adhere to these basic educational requirements: Please contact the funeral service college of your choice for more specific educational guidelines.
A high school diploma or equivalent
An Associate Degree, or its credit hour equivalent, a portion of which is in funeral service education
Passing a state and/or national board licensing examination
An internship or apprenticeship ranging from one to three years
Many states require funeral directors to meet continuing education requirements to maintain licensure
A thorough mortuary science education prepares students to enter the funeral service profession with confidence. Learn about how to find the right program for you and what to expect when you get there.
Embalming can play a very important role in helping families say goodbye to a loved one, providing them with the opportunity to see their loved one. Not sure if you'd like this part of the job? Even people who think they wouldn't have what it takes to embalm a body usually find it's one of the most rewarding aspects of being a funeral director.
As a student, one of the best decisions you can make is to join your national association. Student membership will set you apart from other candidates once you graduate and will provide you with the information and resources you'll need to successfully serve families. 
Funeral Service as a Second Career
Considering a new career? If you've already been in the workforce for a while, whether several years or decades, taking a new career path may be intimidating – but it can also be exciting! For some, a second (or third!) career in funeral service provides the perfect combination of working in a customer-focused environment and learning new skills that help them serve families.
Often, people who have worked in a service profession – law enforcement, education, health care, etc. – are particularly drawn to the service-focused aspects of funeral service. However, becoming a funeral professional can be a fit for anyone who sees the value of helping people during difficult times, enjoys working with people and understands the value of honoring a life.
Many of the skills you acquired in a current or previous career will transfer nicely to funeral service:
Customer service
Working with people
Attention to detail
Management
Processes and procedures
A Journey to Serve
If you're a veteran of the armed forces, you know what it's like to work hard, focus on a mission, and tackle multiple challenges every day. You also have a knack for making people feel respected and heard. A career in the funeral service profession calls for these skills and involves rewarding teamwork as you guide families through challenging times. Learn more about the career paths open to you at JourneyToServe.com.
An Interview with Veteran Dutch Nie
When Dutch Nie first joined the United States Marines as a young man, little did he expect his service would bring him full circle, back to the family business of funeral service. After serving his country in assignments that took him around the world, Dutch felt compelled to return to the family funeral home in Ann Arbor, Michigan. There, he continued the family's legacy, soon realizing the skills and work ethic instilled in him during his military career would play an important role in his ability to both manage a business and serve families. Remembering A Life sat down with Dutch to learn more about his journey to serve: Read the interview
What Types of Positions Are Available - and Where?
Want to learn more about the types of jobs available in funeral service? Visit the National Funeral Directors Association Career Center and learn more about the companies that are hiring and the positions for which they are currently recruiting. Peruse detailed job descriptions to learn more about what funeral directors and other funeral service professionals do on a daily basis. 
So what happens after graduation? Learn more about what you might expect when you start your first job.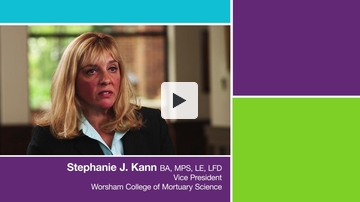 Funeral Directors Say It Best!
Listen to episode 12 of the "A Brush with Death" podcast, a podcast produced by the National Funeral Directors Association. Hear from five recent mortuary science graduates, including first-career funeral professionals and two individuals who are pursuing funeral service as a second career. Listen as they share insights regarding their education and career path so far.